About Us

Shugies celebrates women with confidence and a clear sense of style!  Our jewelry says a lot about us and what we really value.
Let's face it ladies…  Most of us have been around the "jewelry block" a time or two and have a pretty good collection of jewelry that resides in our jewelry case.  But which piece or pieces just call out to you  "Wear  me today!  Please, please, please?"   These are the jewelry designs that Shugies specializes in!

I absolutely LOVE my hammered silver square Shugie! Today at work as I was walking across the room I had two people come up to me to check it out and tell me how pretty it is! Yes I told them about your business:). It was really an eye-catcher against my dark blue sweater."  Lisa T.

I cannot tell you how much I enjoy your jewelry. I have many diamonds and precious stones in my jewelry armoire but yours is the only jewelry I wear anymore.

Not only is it beautiful but I think of the care and time that went into each piece when I look at it."  Amy F.
A Peek at the Person behind the Product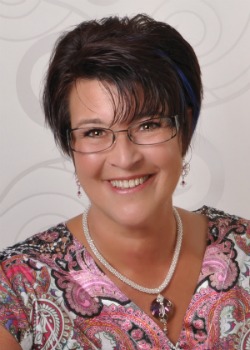 Hi, I'm Sheri, owner and designer of Shugies Jewelry. It is my firm belief that there is nothing as beautiful as a woman's smile and each day I strive to create an accessory that enhances her beauty! I love hand crocheting each necklace and wire wrapping each pendant, imagining as I work, the joy and delight it will bring it's new owner.
Besides my complete addiction to designing and creating jewelry, I have a strong compassion for animals in need. Every purchase from Shugies.com helps support animal rescue organizations as well as local no kill shelters for food, supplies and spay/neuter expenses. Our furry friends thank you for your support!
Thank you for joining me here today. If you haven't done so already, I urge you to join our monthly newsletter packed full of the latest designs, subscriber specials and more. Oh – did I mention the monthly pendant giveaway for subscribers?